22 Recipes To Bring To Your Thanksgiving Celebration
Posted by Andy Kowalski on Monday, November 2, 2020 at 9:43 AM
By Andy Kowalski / November 2, 2020
Comment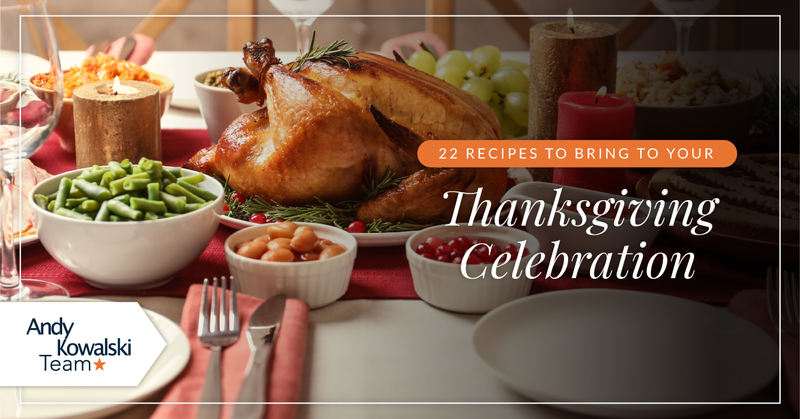 It may seem hard to believe, but Thanksgiving is almost upon us! Thanksgiving is a very special time of the year that allows families and friends to come together and enjoy each other's company as they reflect on all the things they are thankful for. And, of course, Thanksgiving also provides us with the opportunity to enjoy a delicious meal together.
Whether you are hosting a huge get-together for family and friends, planning an intimate meal, or are looking for the perfect receipt to bring for Thanksgiving dinner at someone else's house, we've got you covered. We've put together a list of 22 dishes that are sure to excite everyone's taste buds. Keep reading to find some great main dishes, sides, appetizers, and desserts to go with your Thanksgiving meal.
It isn't Thanksgiving without the turkey. This roast turkey recipe incorporates fresh herbs and butter for a moist and flavorful bird that everyone is sure to enjoy.
Looking to do something a little less traditional this year? Then this recipe is a great option. Wow your guests when you serve them a turkey stuffed with a chicken stuffed with a duck.
A crisp and juicy fried turkey is a sure-fire way to impress your guests. Just be sure to follow the recipe directions carefully and use caution!
Who says turkey has to be plain and boring? Spice things up a little this year by making this bacon-wrapped turkey recipe.
Transform a boring veggie tray into the perfect Thanksgiving appetizer by following the steps laid out in this recipe.
Baked Brie with Cranberries and Pecans
This recipe features the perfect mix of warm and melty cheese and delicious cranberries. Pair it with crackers, bread, or apple slices to create a simple and festive holiday appetizer.
Thanksgiving Turkey Cheese Ball
This cheese ball recipe is not only delicious, but it is also adorable. You can proudly display it at the center of your appetizer table.
Classic Homemade Stuffing Recipe
Some call it stuffing. Some call it dressing. Nearly everyone calls it essential for a Thanksgiving meal. Make a truly appetizing stuffing to pair with your Thanksgiving turkey using this recipe.
Warm and creamy mashed potatoes are the perfect companion for turkey and gravy. This recipe can help you make crowd-pleasing mashed potatoes.
Everyone around the table is sure to love this decadent carrot souffle side dish. It could even be used as a Thanksgiving dessert because it is that good!
Green bean casserole is one of our favorite recipes to make for Thanksgiving. This yummy version is made using the cream of mushroom soup, soy sauce, fried onions, and a few other simple ingredients.
Brown sugar, butter, and pecans make this sweet potato casserole finger-licking good!
The first colonists in New England made Nantucket Corn Pudding for many of their gatherings. With the delicious mix of corn, butter, cheese, and oyster crackers, this traditional dish will taste great with your modern meal.
With just five simple ingredients, you'll be able to whip up a batch of these dinner rolls to serve alongside your Thanksgiving meal in no time.
Orange, apple, pomegranate seeds, and red wine join together to add the perfect touch to your holiday celebrations.
Easy Bourbon Apple Cider Cocktail
Your guests will enjoy sipping this bourbon apple cider cocktail during or after their Thanksgiving meal.
Is it even Thanksgiving if there isn't a pumpkin pie? This delectable recipe uses cream cheese and butter to create a smooth rich pie that is sure to delight.
Apple pie is another staple that is found at many Thanksgiving dinners. With this recipe, you'll be able to make your own tasty apple pie from scratch in no time.
Bring a touch of southern charm to the Thanksgiving table this year with this delicious pecan pie. Your guests will be running back to the dessert table for a second slice!
Cream Cheese Filled Pumpkin Whoopie Pies
If you love pumpkin but don't want to go the traditional route of making a pumpkin pie, try these pumpkin whoopie pies. The cream cheese frosting filling coupled with the yummy pumpkin cookies is the perfect combination.
Nothing says fall like a caramel apple. Incorporate that iconic symbol of fall into your Thanksgiving dessert with these caramel apple cheesecake bars.
These cute turkeys are made using Oreos, candy corn, and other tasty ingredients. They'll not only make the perfect dessert, but they can double as a centerpiece or decoration for your meal. Now that's a win!
If these Thanksgiving recipes haven't made your mouth water, we don't know what will! Have fun planning, prepping, and enjoying your Thanksgiving this year!