5 Fun Date Night Ideas You Can Go On Right Now In Bucks County
Posted by Andy Kowalski on Monday, August 17, 2020 at 10:57 AM
By Andy Kowalski / August 17, 2020
Comment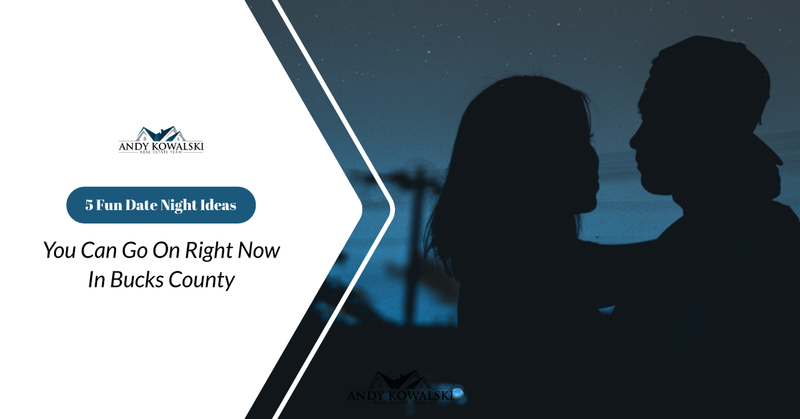 Sometimes as adults we get caught up in the day to day and forget to have fun. In relationships, our healthy priorities can sometimes get sidetracked as well. Going out on dates can surely become an obsolete activity in some relationships due to life's responsibilities such as work, and children. Luckily, Buck's County has very sweet places that couples can go to experience a very fun date night! Here are 5 fun date night ideas for you and your sweetheart in Buck's County.
Buck's County Playhouse
Live entertainment is always a great choice when deciding on what to do for a date. Buck's County Playhouse has live entertainment year-round and the establishment is known for being America's most famous summer theater. You can also dine in at the playhouse. at "The Deck". Their menu includes lobster rolls and crab cakes. Yum! Please note that their menu changes regularly. Feel free to check out their upcoming events.
Buck's County Wine Trail
This next date idea happens to be an absolute favorite. If you and your beau love wine, Buck's County Wine Train will be a perfect date night or date day for you. This amazing wine trail includes 7 wineries that are located minutes apart. The wineries include:
Buckingham Valley Vineyards
Rushland Ridge Vineyards
Bishop Estate Vineyard and Winery
Sand Castle Winery
Crossing Vineyards and Winery
Rose Bank Winery
Wycombe Vineyards
Many of the wineries assist with travel if needed.
The Washington House Hotel & Restaurant-Sellersville Theater
Next up, we have The Washington House Hotel & Restaurant-Sellersville Theater. The Washington House Restaurant & Hotel is a fine dining restaurant and hotel that was built in 1894. This beautiful, Victorian styled restaurant has a calm atmosphere with live music to make your night even better. Dress up in your best attire and head over to have a date night to remember. You can stay a night or you can head over to Sellersville Theater for live music and comedy.
Nockamixon State Park
Nockamixon State Park offers camping stays for you and your honey at a great price. They have a two-night minimum which gives more time to snuggle and enjoy the atmosphere. Be sure to bring your favorite bottle of wine. Before the sun sets, Nockamixon State Park couples can enjoy the many amenities the establishment offers including:
A one-half acre pool
Two water slides
A snack bar
Boating
Parx Casino
Last but not least is the Parx Casino. This idea is the most fun. Who doesn't like casinos? Try a night out at Parx Casino and I guarantee you and your partner will be happy and laughing all night long. With entertainment events featuring people like Howie Mandell, Tony Bennett, and the O' Jays, Parx is not capable of disappointment. In addition to all of the above, Parx also has dining for their guests as well. Choose from Beer Garden, Parxgrill, Liberty Bell Gastropub, Bambu Noodle House, Xlounge, Foodies, The Lucky Cheese, Paddock Grill, and Chickie's and Pete's. You can literally go on date at Parx Casino on several different occasions and never get bored. Please enjoy!
We really hope you like our date night ideas. Let us know how your date went! Have a great rest of your day.