5 Mistakes You MUST Avoid when Buying and Selling At The Same Time
Posted by Andy Kowalski on Monday, September 28, 2020 at 11:30 AM
By Andy Kowalski / September 28, 2020
Comment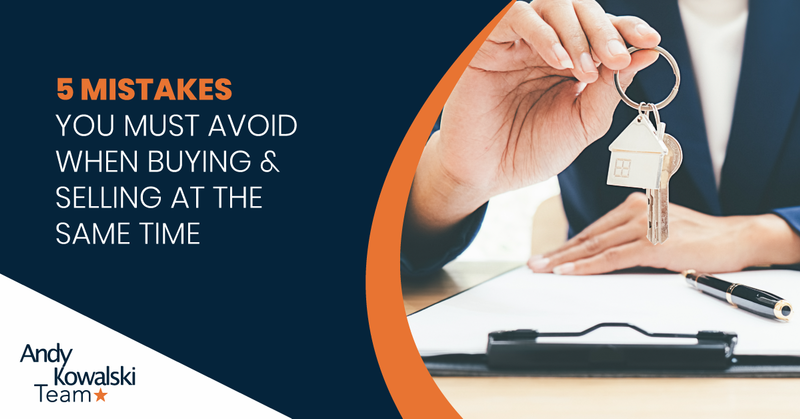 Purchasing or selling a home can be a very stressful task to undertake. While each one of these tasks individually come with their own challenges, many people end up having to go through both processes at the same time. If you are buying and selling at the same time, figuring out how to coordinate the processes can be daunting and hard to accomplish. When you are going through this process, there are 5 mistakes you must avoid that can make it a much better experience and process for you.

Not Planning for Lower Sales Price
One mistake that a lot of people make when they are selling a home is not being able to plan for a lower sales price. If you are going to sell a home and then buy it, there is a good chance that you will need to roll your old equity into your new home. Due to this, there is a good chance that you will depend on receiving a certain sales price. While this is inevitable, you do need to make sure that you have some cushion. This way you will know that you will have the equity you need to make your purchase even if your sale does not yield the price that you want.

Not Accounting for Moving Time
Selling and buying at the same time will also come with a move that all needs to take place on the same day. Due to the risk that your purchase or sale could be delayed, you should not start loading up the moving truck until you have signed the dotted line. Those that do not do this run the risk that they could pay for a mover and then have to move all of their items back into their original home. Instead, you should negotiate a buffer in which you have at least 24 hours to move your items out after you close.

Not Negotiating
When looking to purchase a home, many people expect that sellers will be willing to negotiate and offer concessions. However, sellers often are not willing to compromise on the other end. If you want to be able to sell your home, you need to be more than willing to work with the property buyers. While you have to concede to some credits, price reductions or other expectations, it will ensure that you are able to close the sale. Not being willing to negotiate in good faith could lead to the buyer walking away and you losing both parts of the sale.

Closing at the Wrong Time or on Wrong Day
If you need to execute the sale of your home and then buy a new one, having plenty of time in the day is very important. Due to this, you need to make sure you schedule the closings to allow you to execute both at the same time. This means that you should schedule the first closing for as early in the day as possible. Also, you should try to schedule the closing for earlier in the week. If you schedule it for a Friday and only the sale occurs, you could find yourself without a home to live in for the weekend. This could make the moving process more challenging.

Not Being Pre-Approved
Those that are selling and buying have been through the home buying process before. However, many second or even third time buyers still make some beginner mistakes. One common mistake that is made is a buyer not receiving pre-approval. With a pre-approval letter in hand, it will make you far more marketable to potential sellers. Without it, your entire purchase process could be delayed and you may find yourself with a contract to sell your home but not to buy one.

While buying and selling a home will always be a stressful and challenging situation, there are ways that you can make it go more smoothly. With the support of an experienced realtor, you can find a great place to live while also getting a good sales price for your home. They can also help you to navigate all of the process that come with buying and selling at the same time.