5 Things To Know When Buying a Home
Posted by Andy Kowalski on Monday, August 24, 2020 at 8:23 AM
By Andy Kowalski / August 24, 2020
Comment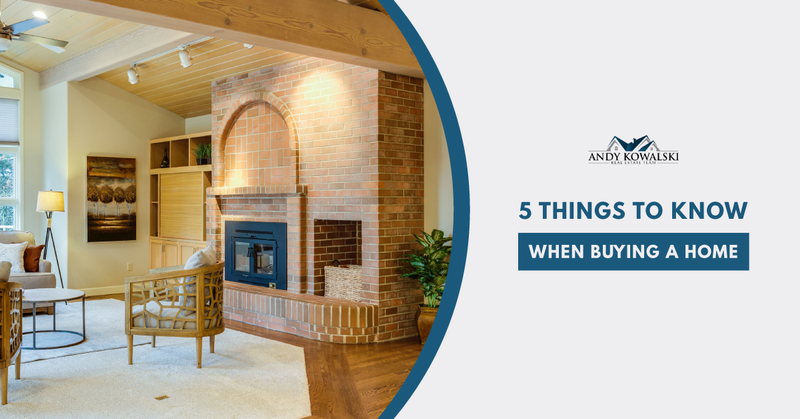 Purchasing a house isn't as simple as just identifying the house you want to buy, telling the owner you want to buy, and then paying for the house. The process of purchasing a house is complex because it involves a lot. You may need approval from a lender, check out the mortgage rates, decide on which home you can afford, and hit the road searching for such a house.

Have you found the home to buy? Here are five things you need to know when buying a house.


1. Selecting the Right Real Estate Agent

Of course, when purchasing a house, you'll need the services of a real estate agent. But before you settle on an agent, you need to shop around so you can get the best agent. Such an agent should have experience in your local market to ensure everything is done as required by law and that you get a home at a reasonable price.

Find out how many clients the agent has helped to buy homes and whether or not they were satisfied with the service. You must also ensure the agent is a buyer's agent as opposed to a seller's agent.

Last, the charges and the terms of the contract should be fair. This is not to say that newly registered real estate agents can't do a great job. However, dealing with someone who has been in the market for several years makes things easier. You can only resort to a newbie if you can't get a seasoned real estate agent.


2. Understand the Process of Buying a Home

Unless you have bought or sold many homes, you may not be familiar with what goes on in the real estate industry. At worst, you may be duped by unscrupulous agents or sellers. So even before you hire an agent, you also need to research to help you understand the process of purchasing a house.

You may want to know how to get affordable homes, how much deposit is required, what a mortgage is, and what terms will be favorable to you, etc. You also need to learn all the legal requirements surrounding the home buying process, and what would happen if you back out of the process before the deal is closed.

Once you've done your research, you can then approach a Realtor for further clarification and guidance. Have a set of questions ready before you visit a Realtor's office.


3. What's the Age of the Roof, Water Heater, and HVAC Of The House?

You might be carried away by how the crown molding, ceiling, and other features in the house are dazzling, but you have to find out the tiny details about them. Things like plumbing, electrical system, roof, water heater, and HVAC system suffer from wear and tear with time. Knowing the age of these fixtures can help you gauge whether the price quoted is worth it.


4. Organize for a Home Inspection

It would help if you hired a home inspector to check the condition of the house before you proceed with the deal. The fixtures mentioned above aren't the only ones to be assessed in a home. A home inspector will move from room to room, checking the condition of every fixture in the house and then also check everything outside the house.
A thorough house inspection may reveal several issues that can guide you on whether to proceed with the deal or end it midway.


5. Search for the Best Mortgage

Do not be in a hurry to settle on one lender. There are many lenders out there with different terms. So you need to shop around for the best lender. Depending on whether or not you are in employment, you need to choose a lender that suits your condition. You can start with the pre-approval stage to know what amount you can qualify for to help you decide which home you can buy.


Is it Worth Buying a Home?

The honest answer is in the affirmative. Purchasing a new home is the best thing you can ever do. But why? When paying rent, it's like you're throwing money away every month, because the money you pay will never be recovered.

Renting has some benefits, but they don't outweigh the benefits of owning a home.
The interest you pay on the mortgage of a period of several years may appear prohibitive, but is incomparable to the rent you pay monthly. Besides, after you are done paying the mortgage, you'll forget about paying rent for the rest of your life. Owning a home may also allow you to access loans that you can use for personal development.


Wrapping it Up

When purchasing a home, do not consider the price of the home only. You also need to consider the expenses you'll incur while in the process of buying the home and other unforeseen expenses you may incur just after moving in. Also, take a loan that you know you can repay comfortably, so you don't turn yourself into a poor homeowner. Remember that paying a huge deposit will lead to lower monthly installments.