6 Steps You Must Follow If You Want To Sell Your House In 30 Days
Posted by Andy Kowalski on Monday, August 10, 2020 at 2:41 PM
By Andy Kowalski / August 10, 2020
Comment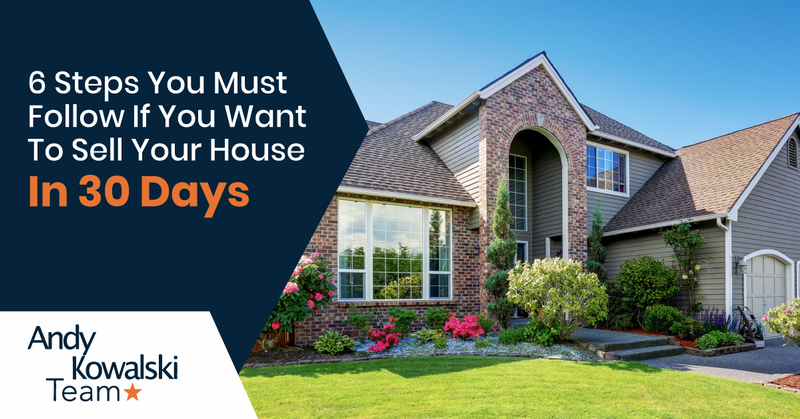 If you're planning to put your house on the market, chances are you also want a quick sale for a good price. You have the best chance of getting your asking price and/or multiple offers within the first 30 days that your house is on the market. If your house hasn't sold in 30 days, buyers are less likely to bite on it. They may also wonder if there's something wrong with it.

So, it's definitely in your best interest to get action on your house early. The following are six steps to follow if you want to sell your house quickly.

Step One - Consider Professional Advice

Instead of simply going with the first real estate agent you run into, start by interviewing several local realtors and getting their recommendations on what your house needs for a quick sale. Meeting with multiple realtors gives you a chance to get multiple market comparisons and recommended prices. Some realtors might tell you that your house doesn't need anything, while others may have a laundry list of fixes. In either case, it gives you something to consider before listing your house.

Step Two - Fix The Small Things

You likely won't need a professional to list all the little things in your house that are broken or not working correctly. Even if you've put them off for years, it's a good idea to fix them before you list your house. Some common small problems the average house might have includes the following:

- Leaky faucets
- Broken towel racks
- Worn molding or tiles
- Broken door handles
- Deadlight bulbs
- Broken light switches

If you have any of these small problems in your house, make sure to take care of them before listing your house.

Step Three - Paint

Both exterior and interior paint is an excellent way to refresh your house and add instant value. A repainted exterior adds immediate curb appeal and can make an older house look new again. If your original color seems dated now, consider repainting in a different color that matches other houses in the neighborhood or keeps with modern sensibilities.

Inside, repainted rooms look fresh and inviting. If you have any garishly painted rooms, it's a good idea to repaint them in neutral colors like beige, off-white, light gray or something similar. As with the exterior, take a look at current paint trends before deciding on colors. You want your house to look updated and modern.

Step Four - Declutter

This is a very important and underrated step to increase buyer appeal. Buyers want to imagine themselves in their new house, and it's difficult to do that when a house is fully cluttered with the seller's personal belongings. Get a head start on your packing by removing as much clutter as possible and taking it to storage or selling what you don't need. Items that can be removed as clutter include:

- Toys
- Books
- Family pictures and mementos
- DVDs and CDs
- Most decor
- Office equipment

If you're not sure what should be removed, have a friend or your agent look around and give you their recommendations.

Step Five - Get Professional Photos

One criteria you might consider when choosing a realtor is which one agrees to pay for professional pictures. Your house may look nice enough with regular photos, but it will look amazing with professional photos. Professional photographers understand the angles and lighting and have more high-tech equipment. They also typically use photo-editing software to make the photos stand out. Remember that photos of your house are what most buyers see first. You can't get that first impression back.

Step Six - Set The Right Price

This is probably the absolute most important tip for a quick sale. Many sellers reason that they'll start high and just lower the price later if it doesn't sell. The problem with this idea, as previously mentioned, is that a house that sits on the market for weeks and months becomes less appealing. Don't come up with the price yourself either. Ask your real estate professional what the house should sell for. Instead of telling them what you want to get out of the house, ask them what price will sell quickly.

The great thing about pricing your house to sell fast is that you could end up with multiple offers and end up selling it for higher anyway. But if you list it too high, you might not get any offers.

Sell your house in 30 days and potentially get multiple offers by using the six easy steps in this guide!