Is It Time To Sell Your Bucks County Home?
Posted by Andy Kowalski on Sunday, August 30, 2020 at 8:16 PM
By Andy Kowalski / August 30, 2020
Comment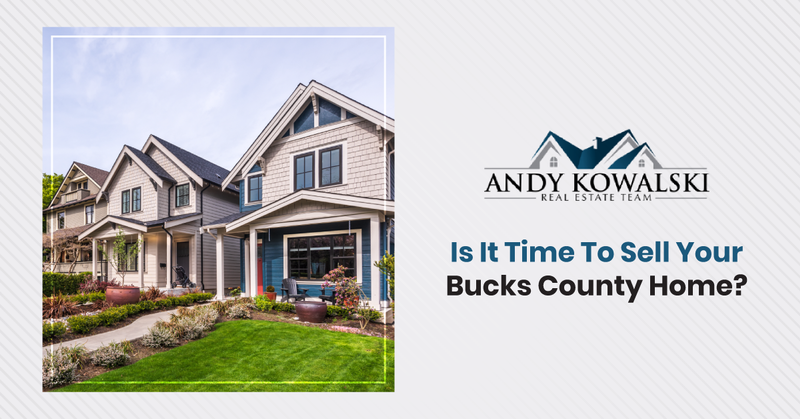 Are you thinking about selling your home in Bucks County? There may be a number of reasons why you feel the need to make this move. The important thing will be to do so for the right reasons. You also need to make sure that you are doing so at the rime that is right for your personal needs.


What Are Home Values Like in Your Area?

When it comes time to sell your Bucks County home, there are a number of important factors to keep in mind. One of them is to make sure that you have a realistic idea of what home values are like in your specific area. You want to know how high you can set your home price so that you can garner as much of a profit as possible.

To set this price in a realistic fashion, you need to know what the homes on your block are valued at. You will also need to know what homes in competing neighborhoods are valued at. You should then consider all of the amenities, such as parks, restaurants, doctor's offices, shopping centers, and malls, that are in your area.

You can then add up all of these various factors to arrive at a final price. This is the price that should be high enough to bring you a decent profit while still being low enough to be competitive. After all, you want to make the sale as quickly as possible after you put your home on the market.


What Are Home Values Like Where You Want to Be?

Your next move should be to consider what home values are like in the area that you plan to move to. For example, if home values in Bucks are much higher than the area in New Jersey you plan to move to, you can look forward to a handsome profit. If the reverse is the case, you need to factor the difference into your operating budget.

It's a good policy to factor in possible changes in the future that may occur before you can make your final sale. For example, if your house is going on the market in late summer, you definitely want to have a final deal in place before the winter season when prices traditionally take a dive.


What is the Total Value of Your Present Property?

Have you recently made renovations to your home? For example, did you spruce up the driveway with some new paving? Did you redo the wallpaper in the kitchen? Did you fix up the sink in the bathroom? These are all low-cost remodeling exercises that nevertheless can add a great deal of extra value to your home.

If you have made these or other renovations, you may wish to schedule a visit from a property appraiser. You may be surprised at just how much you may have added to your price. It may be more valuable than ever.


Consider How Quickly Homes in Your Area Are Changing Hands

It's also a good idea to take careful notice of just how long it takes for a home in your area to be purchased by a new owner. Even if a home in your area is more than fairly priced, there are a number of factors that could keep it on the market for far longer than the present owner would like.

For example, there may have been issues with contaminated water supplies, outbreaks of violence or rioting, or any number of natural disasters in your area. Even the most seemingly tiny things can sometimes cause the value of homes in your neighborhood to come plummeting down.

This is why you need to have an idea of just how long your home could stay on the market before finding a new owner. Having a timeframe in mind will help you plan for your future on a much more realistic and practical basis. It will also help you avoid sudden shocks or disappointments that can come as a result of poor planning.


Don't Count Your Chickens Before They Hatch

When it comes time to sell your Bucks County home, there are a great many factors to consider. Some of them have been mentioned in this article while others will only arise when you make your move. For this reason, it's important to be sure that your reasons for moving are solidly considered.

It's also crucial to moving as decisively but safely as possible. This goal can be met by engaging the aid and counsel of an expert real estate agent in your area. The wisdom and experience that a qualified vet can bring to the table is incalculable. With their help, you can make your move as efficient and profitable as possible.