Selling Your House in Bucks County? Answer These Questions First
Posted by Andy Kowalski on Tuesday, October 27, 2020 at 12:18 PM
By Andy Kowalski / October 27, 2020
Comment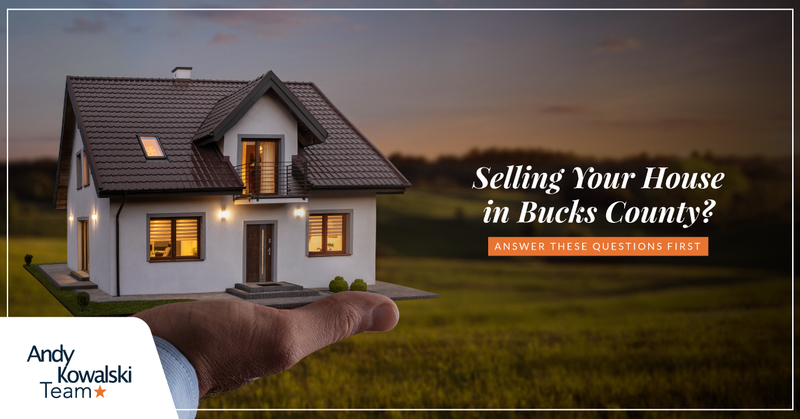 Selling your home can be a great way to get into a home that better fits your needs and wants and potentially end up with a lower mortgage payment in the process. At the same time, selling your home can be a complicated and financially testing process that needs to be taken seriously. If you ask yourself some hard questions, though, you'll be able to figure out whether you're truly ready to sell your home or if the idea is more of a passing fascination.

Does My Current Home Meet My Needs?
A home should serve its residents, not the other way around. If your home is no longer serving the needs of you and your family, then it may be time to sell it to find something that can serve you better. Examples of changing needs include additions to the family, children moving out, finding better educational opportunities for your children, and finding a better neighborhood. If you find yourself more annoyed than excited when you pull in your driveway, the time to sell may be looming.

Am I Financially Ready To Buy A New Home?
Unless you plan on becoming a renter, you'll need a new place to live when you sell your home. Buying a home is a major financial commitment, even for someone who already owns a home. That's why it's important to ask yourself if you're truly in a healthy financial situation that will set you up for success when you buy your new home.

It's important to look not just at the "right-now" but also at the "later-on" when it comes to buying a home. After all, you don't want to be a few months into your new mortgage, only to discover that you can't afford it as easily as you'd thought.

Is My House Sellable?
Before selling your home, you want to be sure that you can get the highest-possible asking price so that you have more money to invest in a new home. If your new home is in a serious state of disrepair, it may be best to wait a while to sell your home so that you can slowly make repairs that will help your home perform better on the market. Though these repairs cost money, the return on your investment will generally make them worth the time and money involved.

Is Everything Safe?
Beyond simple cosmetic repairs that can affect your home's asking price, it's important to inspect your home to determine if there are any major issues that could cause your home to fail a buyer's inspection. If there is anything that would turn up on the report, it's a good idea to address these issues now so that they don't slow down the selling process later. For extra assurance, you can have a seller's inspection performed on your home to make sure everything is up to snuff.

Can I Leave These Memories?
Even though a home is ultimately just a building, it is easy to attach significant memories to a building in which you spend so much time. Therefore, it's totally viable to ask if you can truly stand to leave those memories behind in Bucks County. You don't want to list your house, accept an offer, and then realize that leaving the house where your children took their first steps will be too much to bear emotionally. One great way to think through this question is to look through old pictures as you walk around the various rooms in your home.

Do I Have Time In This Stage of Life
Selling your house requires a lot of work. Getting every inch of your house perfectly clean for listing pictures can be a weeks-long effort that can leave you completely exhausted. When you pile these duties on top of your normal responsibilities, you may find that this season of life is just too busy to try and sell your home. Of course, you can hire professionals to come and do a large part of the work for you. However, the more money you spend paying for work that you could do yourself, the less lucrative your home sale will be.

Is It Financially Worth It?
Some people see the sale of a home as a purely financial move. As your home increases in value, you build equity, which you can cash-out by moving to a new home. However, if you don't have much equity built-up, it may not make much financial sense to sell your home. Especially when you consider the significant costs associated with selling a home, you could even end up in negative territory if you don't bide your time and wait for enough equity to accrue. Of course, if you have another reason that you're moving, the issue of equity is far less important, though still worthy of consideration.