Top Restaurants In Bucks County You Have To Stop In and Try
Posted by Andy Kowalski on Tuesday, July 28, 2020 at 8:35 AM
By Andy Kowalski / July 28, 2020
Comment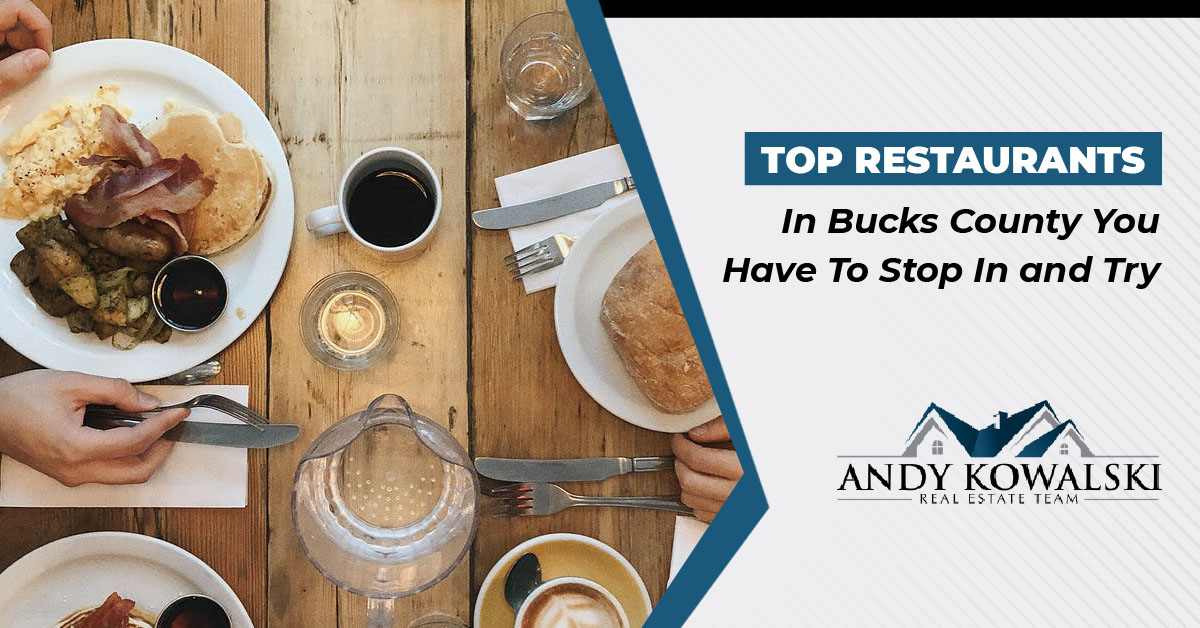 Bucks County is a very popular area of Pennsylvania, which is largely full of suburban communities located north of Philadelphia. People move to this area due to the strong economy, proximity to the city, and a variety of local amenities. One benefit that comes with living in this area of the state is that there is a wide range of restaurants to choose from that offer a diverse set of cuisine options. There are several restaurants, in particular, to try if you are in Bucks County.

Hachi
If you are in the mood for some fresh sushi and seafood, Hachi is a great place to go. While it has food that matches more upscale restaurants, Hachi is a relaxing place to enjoy great food at a fair price. When you come here, there is a long list of standard and customized sushi rolls as well as other popular dishes and unique cocktails and drinks. There are also frequent specials and other offers that can help you to enjoy a great meal.

Honey Restaurant
One of the most popular restaurants in the county continues to be Honey Restaurant. When you come here, you can enjoy a very modern atmosphere with a fun vibe. This restaurant is best known for its tapas, appetizers, and other small plates. This makes it a great place to enjoy a meal with a group of friends.

The Hattery Stove and Still
If you are in the mood for brunch or breakfast, a great place to visit is The Hattery Stove and Still. This is a leading restaurant in the area that is well known for its unique egg dishes and other great meal options. When you come here, there are also plenty of drinks for someone to choose from.

Geronimo Brewing
Sometimes there is nothing better than going to a casual restaurant and enjoying a beer and comfort food. If you are in the mood for this type of cuisine and atmosphere, you should come to Geronimo Brewing at Lilly's Jury Room. This is a popular location and located in the heart of the county, right on Court Street. You can choose from a wide range of different local beers and a surprisingly wide list of available food options.

Rakkii Ramen
During the cold winters in Bucks County, having a hot bowl of rame is a great option. For those that are in the area, Rakkii Ramen is a great option. When you come here, there are many different ramen dishes. While you can come to the restaurant located on State Street, you can also order it to go.

Bocelli's
When you are in the Philadelphia area, one of the most popular cuisine options is Italian food. While there are a lot of great options in this metro area for this type of food, Bocelli's is one of the top restaurants to try. At this restaurant, you can enjoy fresh-cooked pasta, seafood and meat dishes, and a wide wine list and selection. This is a great place to spend a night out or to celebrate and commemorate a special occasion.

The Lucky Well
If you are in the mood for a craft cocktail, another great place to come to is the Lucky Well. This is a fun bar and restaurant that always has a list of craft cocktails and wines to choose from. Here, you can also enjoy many different American cuisine and comfort food options while having a good time with friends and family.

Spuntino
If you are in the mood for a pizza, a great place to come to is Spuntino Wood Fired Pizzeria. At Spuntino, you can have an amazing pizza made with fresh crust and sauce. The wood-fired oven gives an amazing taste to the pizza, which is unmatched by any other pizzerias in town.